Weapon Charges Attorney in Fresno
Experienced Firm That Understands Weapons Charges
Weapons charges often stem from police questioning someone for a different reason and conducting a subsequent search of a car, home or other property—possibly an illegal search. If you face weapons charges, it is important to take the matter seriously and retain the services of an experienced Fresno County criminal defense lawyer.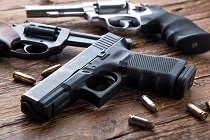 At Schweitzer & Davidian, we have a comprehensive knowledge of California and U.S. weapons laws, and we defend individuals against a broad variety of weapons charges.
There are subtle distinctions between a legal and illegal search, as well as a weapon that can be legally owned and one that is illegal under California gun laws. We have a comprehensive understanding of these laws and know when law enforcement officials have overstepped their boundaries.
We Protect Your Gun Rights as Well as Your Future
A conviction on a weapons charge can have long-term consequences on your employment opportunities as well as the right to own and use firearms. We protect those rights by aggressively defending you against the charges.
California statutes regulating the manufacture, distribution, sale, and possession of firearms are complex and constantly changing. We stay abreast of all state and federal gun laws in order to provide knowledgeable legal counsel.
A weapons charge conviction can be a felony and mark against you in terms of California's three-strikes law. This could result in a prison sentence of 25 years to life. Clearly, you do not want to take your chances by relying on an inexperienced lawyer.
At Schweitzer & Davidian, our Fresno defense attorneys have more than 25 years of combined experience, including a number of successful outcomes in weapons crimes cases.
Get in Touch with a Competent Criminal Defense Firm in Fresno
As your representation, we prepare meticulously for every case and always stand ready to defend your rights in court. You are assured of working with one of our lead attorneys from start to finish.
We emphasize clear communication with clients and make ourselves available throughout your case to answer your questions and review your options.
Contact us by calling (559) 206-2322 to schedule a free consultation. We will examine the facts of your case and recommend the best course of action.