Weapon Charges Attorney in Fresno
Experienced Firm That Understands Weapons Charges
Weapons charges often stem from police questioning someone for a different reason and conducting a subsequent search of a car, home or other property—possibly an illegal search. If you face weapons charges, it is important to take the matter seriously and retain the services of an experienced Fresno County criminal defense lawyer.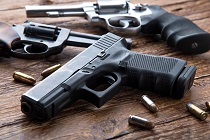 At Schweitzer & Davidian, we have a comprehensive knowledge of California and U.S. weapons laws, and we defend individuals against a broad variety of weapons charges.
There are subtle distinctions between a legal and illegal search, as well as a weapon that can be legally owned and one that is illegal under California gun laws. We have a comprehensive understanding of these laws and know when law enforcement officials have overstepped their boundaries.
We Protect Your Gun Rights as Well as Your Future
A conviction on a weapons charge can have long-term consequences on your employment opportunities as well as the right to own and use firearms. We protect those rights by aggressively defending you against the charges.
California statutes regulating the manufacture, distribution, sale, and possession of firearms are complex and constantly changing. We stay abreast of all state and federal gun laws in order to provide knowledgeable legal counsel.
A weapons charge conviction can be a felony and mark against you in terms of California's three-strikes law. This could result in a prison sentence of 25 years to life. Clearly, you do not want to take your chances by relying on an inexperienced lawyer.
At Schweitzer & Davidian, our Fresno defense attorneys have more than 25 years of combined experience, including a number of successful outcomes in weapons crimes cases.
Get in Touch with a Competent Criminal Defense Firm in Fresno
As your representation, we prepare meticulously for every case and always stand ready to defend your rights in court. You are assured of working with one of our lead attorneys from start to finish.
We emphasize clear communication with clients and make ourselves available throughout your case to answer your questions and review your options.
California Gun Rights FAQs
Owning a deadly weapon often comes with legal challenges. California has specific laws about the types of weapons that are legal and illegal, who can buy firearms and who can't, where you can carry a gun and where you can't, and much more. It can get quite confusing.
Here are a few frequently asked questions and answers about gun possession in our state:
Can teenagers legally buy guns?
Yes, according to the California Department of Justice, an eligible 18-year-old can buy a shotgun or rifle. However, you must be at least 21 to buy a handgun.
What documents do I need to buy a gun?
You will need to provide a photo ID such as your driver's license, plus proof that you live in California (such as a copy of your lease agreement or water bill). If you are a member of the U.S. military, you must provide your military ID and permanent duty station orders showing that you are stationed in California. If you aren't a citizen, you must provide documentation that proves you are in the country legally.
Unless you qualify for an exemption, you will also have to show your Handgun Safety Certificate.
Can I take the gun home with me the same day I buy it?
No. You must comply with California's 10-day waiting period. After the 10 days, you can take the weapon home.
How many guns can I own?
As many as you want. Currently, there is no limit on how many firearms a person can possess.
I have a permit to carry a concealed handgun in a different state. Does that give me the right to carry a concealed gun in California, too?
No, your permit isn't valid in California. You will have to obtain a Carry Concealed Weapon (CCW) license in this state.
I have other questions. Who can I ask?
A lawyer is an excellent resource to answer all your questions about California gun laws. He or she can provide the up-to-date and detailed legal guidance you need to navigate the complex, ever-changing regulations.
Related Reading: 4 Types of Federal Weapons Charges
Powerful Defense You Can Depend On
Why Put Schweitzer Davidian on Your Side?
Hablamos Español

Spanish cases are welcome! Our firm provides bilingual legal services to accommodate the needs of our ESL clients.

A Client-Centered Firm

We put our clients first above all else. You can feel confident knowing that we only take cases in which we know have a fair chance at justice.

Experienced Trial Attorneys

Combined, our founding legal team has over 25 years of trial experience on the front-line, proving that we are more than qualified for your case.

100% Devoted to the Accused

Any defense attorney who claims to be a former prosecutor is a hypocrite. We have always known what side we are on - your side.