Veterans Defense Lawyer California
Compassionate & Experienced Fresno, California Veteran Defense Lawyers
At the law firm of Schweitzer & Davidian, military veterans receive the utmost care. We understand the difficult and lifelong challenges that are presented by service-related disabilities, including traumatic brain injury and post-traumatic stress disorder.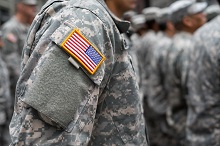 If you are a veteran facing criminal charges, you need more than an experienced California criminal defense lawyer. You need a Fresno criminal lawyer with experience in defending veterans in California.
---
To get started with your case, contact our Fresno criminal defense attorneys at (559) 206-2322 and schedule a free consultation.
---
Understanding California Veterans Treatment Law
Porter v. McCollum (2009) 558 U.S. 30. California Penal Code section 1170.9, was enacted in 1982 to provide sentencing alternatives for Vietnam War era combat veterans whose military service "caused or exacerbated" their criminal act. The law was amended in 2006 to specifically include all combat veterans of any era and to make local treatment a feasible sentencing alternative. Additionally, the code has been amended again effective January 1, 2011, to "eliminate the requirement that the offense be committed as a result of problems stemming from service in a combat theater," and it expands the list of disorders to be considered as causing or exacerbating the criminal act.
Recent changes by the legislature help veterans who were convicted to get their records cleared. With the vast influx of wounded warriors from our Nation's recent involvement in the Middle East, the Courts are responding in various ways including the recent (2014) innovation of Judicial Council form ML-100, ''Notification of Military Status" form.
Criminal Legal Help for Veterans in Fresno
It does no good to say you are a veteran if the lawyer defending you or the court you find yourself in front of has a "so what?" attitude and little concern for the reasons you came to be involved in the criminal justice system.
At Schweitzer & Davidian, Attorney Eric Schweitzer is widely read on developments affecting veterans and the courts. Working with the best team members from active-duty military doctors, psychiatrists and published former military personnel, Mr. Schweitzer has defended combat veterans from all major conflicts since Vietnam. He has the distinction of being the only California defense lawyer to win the admission of "total military institution" evidence in the guilt phase of the trial.
Mr. Schweitzer has also successfully defended many current and former soldiers accused of everything from simple battery to first-degree murder in every conceivable forum, from on-base, non-judicial proceedings, to trial by jury. Our Fresno military criminal defense attorney has been called upon to lecture on veterans and the criminal justice system before a national audience and is recognized nationwide as an expert in the field of defending veterans. His legislative input is regularly sought out in making improvements in the way the courts treat veterans.
Arrange a Free Consultation with Our California Veteran Defense Lawyer
Mr. Schweitzer cares deeply about people who have served in our nation's armed forces; every staff member in our office has been trained in both the care and effective defense of veterans accused of a crime.
To any veteran reading this, we are glad you made it home! Please let us know if we can be of service to you or your loved ones who have served.
---
Call (559) 206-2322 for a free consultation today.
---
Powerful Defense You Can Depend On
Why Put Schweitzer Davidian on Your Side?
Hablamos Español

Spanish cases are welcome! Our firm provides bilingual legal services to accommodate the needs of our ESL clients.

A Client-Centered Firm

We put our clients first above all else. You can feel confident knowing that we only take cases in which we know have a fair chance at justice.

Experienced Trial Attorneys

Combined, our founding legal team has over 25 years of trial experience on the front-line, proving that we are more than qualified for your case.

100% Devoted to the Accused

Any defense attorney who claims to be a former prosecutor is a hypocrite. We have always known what side we are on - your side.